The NATA Political Action Committee's biggest annual fundraiser, the NATAPAC Breakfast, is always one of the most-sought after tickets at the annual convention. Attendees enjoy a served breakfast, a great opportunity to network with peers and an inspiring keynote address from a relevant keynote speaker.

Lindsy McLean to Headline NATAPAC Breakfast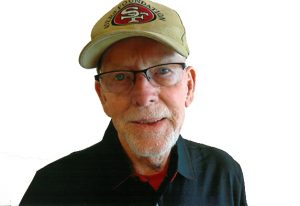 NATA Hall of Famer Lindsy McLean, AT Ret., will be the featured speaker at the NATAPAC Breakfast 7-9 a.m. June 27 at the 69th NATA Clinical Symposia & AT Expo in New Orleans. This breakfast, always one of the hottest tickets at the NATA convention, benefits the NATA Political Action Committee's efforts to seek better working conditions, fair access and the right to practice for all athletic trainers across America.
McLean was inducted into the NATA Hall of Fame in 1988 in recognition of an impressive career that includes being the head athletic trainer for the San Francisco 49ers from 1979-2003. Prior to working in the NFL, McLean was the head athletic trainer at the University of Michigan, University of California and San Jose State University. He has always been involved in advancing the profession as an active volunteer. McLean helped restructure NATA in the 1970s as chairman of the certification committee and was instrumental in the establishment of the athletic training certification exam and requirements.
---
---
NATA 2017 Keynote Address
Ron Courson: "Who do we propel?"
By Beth Sitzler
As Ron Courson, ATC, PT, NRAEMT, Director of Sports Medicine with the University of Georgia Athletic Association, took to the stage to give the 2017 NATA Political Action Committee Breakfast keynote address Tuesday, June 27, the room fell silent, captivated by his message of purpose and inspiration.
"Each of us has a different reason for why we do what we do," Courson said. "I believe that, as athletic trainers, most of us do what we do because we care. This is a really unique profession in that, most of the time, when someone is at our athletic training facility, it's because they have a problem. Every one of us has the opportunity to impact a person's life in a positive way."
Growing up the son of a minister, Courson said he thought he would follow in his dad's footsteps even though it wasn't what he really wanted to do. He became interested in sports and coaching, and went to college to play football at the encouragement of his high school coach. While there, he broke his leg and was placed under the care of athletic trainer Chris Gillespie.
"That broken leg changed my life," said Courson, adding that Gillespie became his first mentor. "He didn't just treat me like an injury—he treated me as a person."
Courson developed an interest in sports medicine and pursued athletic training. He had several mentors throughout his career, all of whom instilled the importance of treating the patient, not just the infliction.
"[As athletic trainers] we care not just because we have to, but because they're a person in need," he said.
Throughout his keynote address, Courson asked attendees to think about the people in their lives who influence them and who they influence.
"Who propels us, and who do we propel?" he asked.
Courson discussed the many times in his life he has seen his athletes overcome and succeed thanks to the support of their athletic trainers, coaching staff and community.
He discussed Malcom Mitchell, a former Georgia football player currently with the New England Patriots. While in college, Mitchell was a promising athlete but could only read at a junior high level. After an ACL injury left him sidelined, he developed a love for reading and even joined a local women's reading club. Now an accomplished author—and Super Bowl champion—Mitchell spends his time off the field promoting literacy to children.
Another inspirational story Courson shared, among several others, was that of Devon Gales, a Southern University football player who injured his neck during an away game against Georgia in September 2015. The injury left him paralyzed from the waist down.
"This really galvanized the community. People would call and ask what they could do to help," said Courson, who stayed in the hospital with Gales as his family arrived from out of town. "Hotels were offering to put his family up for free.
"People across the state are now trying to build him a home. … He inspires us, and in return we inspire him."
Courson also touched on what it means to be family.
"I have my own family, my athlete family and my athletic training family—and sometimes they all intertwine," he said.
They all came together two years ago when Courson's son suffered a traumatic brain injury late one night. As he rushed to be with his family at the hospital, he received an out pouring of love, concern, prayers and well-wishes from his athletic family at the University of Georgia as well as his athletic training family at large.
"Over the next 24 hour, my phone was blowing up with text messages from across the country," he said.
Because of his personal experiences, Courson said he is excited for ATs Care, a new NATA program designed to offer crisis management training opportunities for athletic trainers dealing with the aftermath of a critical incident.
"I think ATs Care has the potential to be the most powerful thing NATA has done," he said.
Courson said the athletic training profession needs to be like the space industry, which Houston is home to.
"To go to space, you have to have a plan, you have to have flight plan," he said. "Athletic training needs the same thing. We need to have a direction to go in. We need to know where we want to go."